NFL Draft Prospect Profile: Liberty QB Malik Willis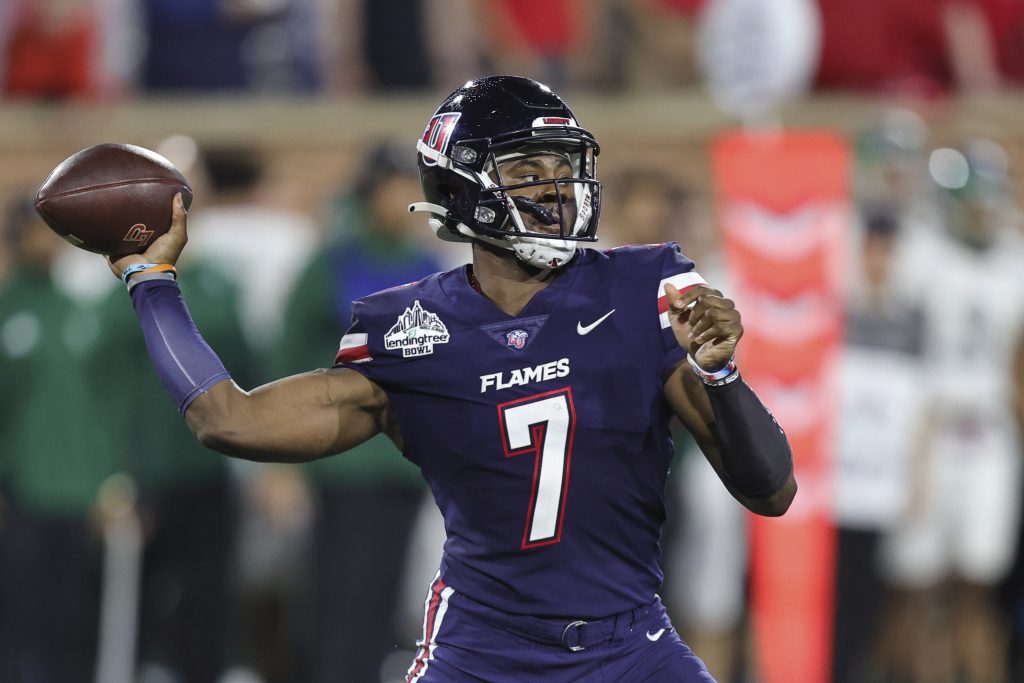 The story of Malik Willis is the story of a second chance, the story of finding where you fit best. After making a move that most would have considered a demotion or a resignation that the NFL was not in its future, Willis proved doubters wrong and became one of the most sought-after quarterbacks in the draft. of the smallest of steps.
Willis came out of Roswell HS in Atlanta as a consensus three-star athlete. His recruiting was fairly low-key, as he only received offers from fourteen schools, only three of which were from Power 5 conferences. Willis didn't get much attention until the offseason after his junior year and he committed to Virginia Tech that summer. Unfortunately for the Hokies, Auburn made a late push for Willis, knocking him down in late December, a week before he arrived on campus from Alabama as the first registrant.
Willis spent two years at Auburn as a backup Jarrett Stidham. In a recent interview with Sports Illustrated's Tzvi Machlin, Willis admitted that his immaturity at the time probably prevented him from succeeding at Auburn. After two years, he decides to transfer and finds his way to join Hugh Freeze at Liberty University, a school that had only joined the ranks of FBS two years previously.
After being out for a year, due to transfer rules, Willis was named the team's starting quarterback and set out to set the world of college football on fire. In his first season in charge of the Flames' offense, Willis had stunning numbers, despite the season being shortened by COVID. In ten games, Willis completed 64.2% of his passes for 2,250 yards, throwing for 20 touchdowns for 6 interceptions. He veered on an occasional rush for 944 yards, averaging almost 100 yards per game, as well as 14 additional rushing touchdowns. The Flames have been ranked up to 21st all season, with their only loss being a one-point road loss at NC State. In their bowl game, they were paired with another small-market phenom Coastal Carolina in a thrilling overtime deal that left Willis victorious over the Chanticleers.
Willis decided to return for his senior year in redshirt and led the Flames to an impressive 8-5 against a tougher schedule than the previous year. Despite constant pressure from a less-than-reliable offensive line, Willis had a career-high passing tally, throwing for 2,857 yards with 27 touchdowns and 12 interceptions. He again added a huge rushing component, racking up for 878 yards and 13 rushing touchdowns.
The obvious asset Willis brings to the table over other quarterbacks in the draft is his legs. It has a quick burst and excellent vision of the tracks and designed options. The Cardinals, Ravens, 49ers and many other teams have shown that an offense that incorporates run-pass-option (RPO) plays can be a ton of success in the NFL if you have a quarterback who can do it. operate efficiently.
That being said, Willis is a quarterback, and a good one at that. He impressed NFL teams in meetings with his intelligence and ability to pick up NFL concepts. He has elite arm strength and shows the ability to hold the ball in tight windows. There are a few technique/training issues that can help him improve his consistency and touch. He can effectively get some gas off the ball, but needs to improve the arch he puts in the ball's flight. There are quite a few things Willis needs to improve on, but he already has so many tools that the potential for those improvements gives him the highest ceiling of any quarterback in the 2022 NFL Draft.
It has become a popular idea in the league that two quarterbacks will be selected from the top 10 draft picks, their likely destinations being the Falcons, Panthers, Giants and Seahawks. The NFL Network's Daniel Jeremiah ranked Willis 27th among the draft's top prospects and The Athletic's Dane Brugler has Willis just behind another quarterback prospect. Kenny Pickett of Pittsburgh at 32nd. Although he ranks behind Pickett in both rankings, most analysts agree that Willis has the higher ceiling of the two and, due to his potential, Willis has every right to expect to be the first quarterback. -back to be removed from the board later this month.