Milwaukee women's basketball teams pay forward – Marquette Wire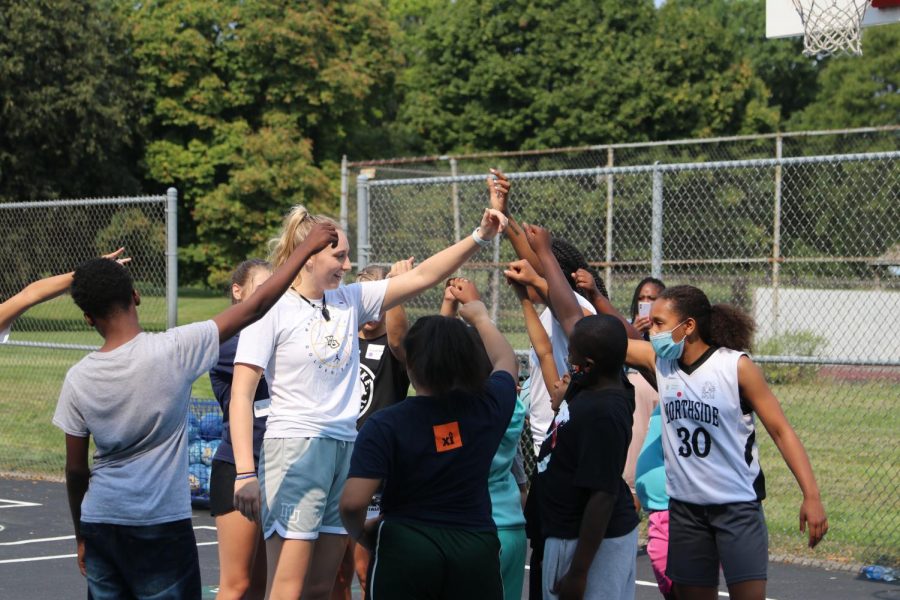 Today there are 56 days between Marquette's women's basketball season opener against Alcorn State.
However, the Golden Eagles started their season early on Saturday.
Marquette has partnered with the University of Wisconsin-Milwaukee women's basketball team and the Milwaukee Police Department to host a free basketball clinic at North Side Washington Park in Milwaukee. The clinic was open to students from grades 1 to 8.
"One of the commitments we made last year during a very difficult year is to try as many times as possible to get out in our community," said Marquette head coach Megan Duffy. . "We play in Milwaukee every year on the women's basketball side and I said, 'let's take our differences, unite to give back to our kids and teach the game we love. "
Duffy said she wanted to run a basketball clinic after discussing the UWM basketball program with his own.
"We talked about the change we can make and (how can we) try to create a community in a city that was focused on unity," Duffy said. "It's about coming together from all walks of life to play basketball and really help each other. To have the police department fully supporting our youth and our children in the community is absolutely great. "
UWM women's basketball head coach Kyle Rechlicz said he was eager to team up with Marquette for the initiative, and said he only sees them as rivals when they were opponents on the ground.
"There's really only one day a year that I don't cheer them on and that's when we play against them. Apart from that, our programs support each other enormously, "Rechlicz said. "To be able to collaborate and bring our two agendas together for an event like this, where it just shows that you can unify and bring the city together, I think it's so important on so many levels. "
Rechlicz said that in addition to social media, the two teams used their connections through local youth leagues and youth programs.
"This is the first year and you see a great turnout," Rechlicz said. "If we can continue to do this year after year, how big could this event be? "
Leaders in the community
Many in the world of sport recognize that athletes have a special platform where they are viewed as leaders in a community.
For graduate student striker Lauren Van Kleunen, an event like this is the reason she took advantage of the extra year of eligibility granted by the NCAA due to COVID-19.
"It's the best part of the job," Van Kleunen said. "You can be part of the community and see everything that is happening not only on the land you are working on, but also the impact you have on children. "
For Marquette graduate student guard Karissa McLaughlin, Saturday was her first encounter with the Milwaukee community after being transferred to MU from Purdue.
"It's super inspiring to have a whole bunch of groups of kids from all walks of life across Milwaukee," McLaughlin said. "To reunite us all with UWM, this is a super cool opportunity just to bring us all together."
The day meant something special for junior forward Chloe Marotta, from nearby Mequon, Wisconsin.
"Giving back to the community is a big part of what we do," said Marotta. "We can still go up and be in Mequon himself, but it's something to be in Milwaukee where we play every day and with UWM, that makes him very special."
Toggle switch
For three and a half hours, the roles of coach and player were reversed as players put the whistle around their necks while coaching young children.
"Sometimes our team doesn't always realize the impact it has on young people and the opportunity to give a high five or smile is really all," said Duffy. "Being able to give back to the young girls and boys in our community and teach them a thing or two is quite special. "
Van Kleunen said flipping the switch is exciting.
"I have been in their shoes before," said Van Kleunen. "To do clinics like this, to admire the students, to go to some different camps. Playing basketball my whole life, I've been doing the same. So the fact that I was able to see it, go through it and now be able to translate it, it's a great experience.
Saturday's event was an opportunity for many Golden Eagles to make an impact on young basketball players just as they were touched by coaches as children.
For McLaughlin, that impact came from his father.
"(He) was my guy growing up, my coach who taught me everything I knew until middle school and high school where I coached," McLaughlin said. "My dad has always been the person I admired, a person I inspired to be and just to be that happy person in the community who just loves coming back."
Meanwhile, for Van Kleunen, it was his trainer in elementary school.
"He was extremely helpful in the basics and he didn't care about your talent, he just wanted you to work," Van Kleunen said. "He really laid the groundwork for me and that's kind of where I started to fall in love with basketball. "
Some of the day's drills included ball handling, passing drills, defensive shuffles and shooting competitions.
As Van Kleunen led the passing drill, she said she wanted to demonstrate a simple goal as a coach.
"Let the little things count," Van Kleunen said. "It's important for us, especially with Marquette women's basketball. You are never too young or too old to work on simple passing drills. Being able to do that is really important to be able to show it to these kids.
Marotta said she hopes she will be able to impact children in a number of ways once they leave her agility station.
"Energy is something I always stress," Marotta said. "If they can come here and have fun, that's something I'll be happy about. Giving them the opportunity to come here and play basketball is something that as a kid you want every day. "
Van Kleunen said she hopes today will leave a lasting impression on the young players.
"Whether it's for a Marquette or Milwaukee game or just for fun," said Van Kleunen. "Sometimes in this sport that (the fun) gets lost a bit, so having fun bringing the community together is extremely important. I'm really happy to have the chance to do this. Ultimately, bringing us all together is what matters.
And while the day was for the kids, Marotta said it was just as much for the players.
"We can work together at different stations and meet young girls that I haven't talked to much," said Marotta. "The freshmen last year didn't have that experience, so it's really important to them.
The next stop on the Golden Eagles season kick-off schedule is Marquette Madness, which is scheduled for October 1 at 7 p.m. at the Al McGuire Center.
Overall, Duffy said she is thrilled the season is just around the corner.
"It's a preseason period for both teams where we work really hard (on) strength conditioning and get into the gym, but to be able to go out and do events like this before (it) starts." really in the thick of the season is excellent, "said Duffy. "Over the next few months you are going to see us giving back a lot and trying to get a good buzz around the two basketball programs."
This article was written by John Leuzzi. He can be contacted at [email protected] or on Twitter @JohnLeuzziMU.