Methuen's Keegan is gearing up for a great final season with Vanderbilt baseball | Sports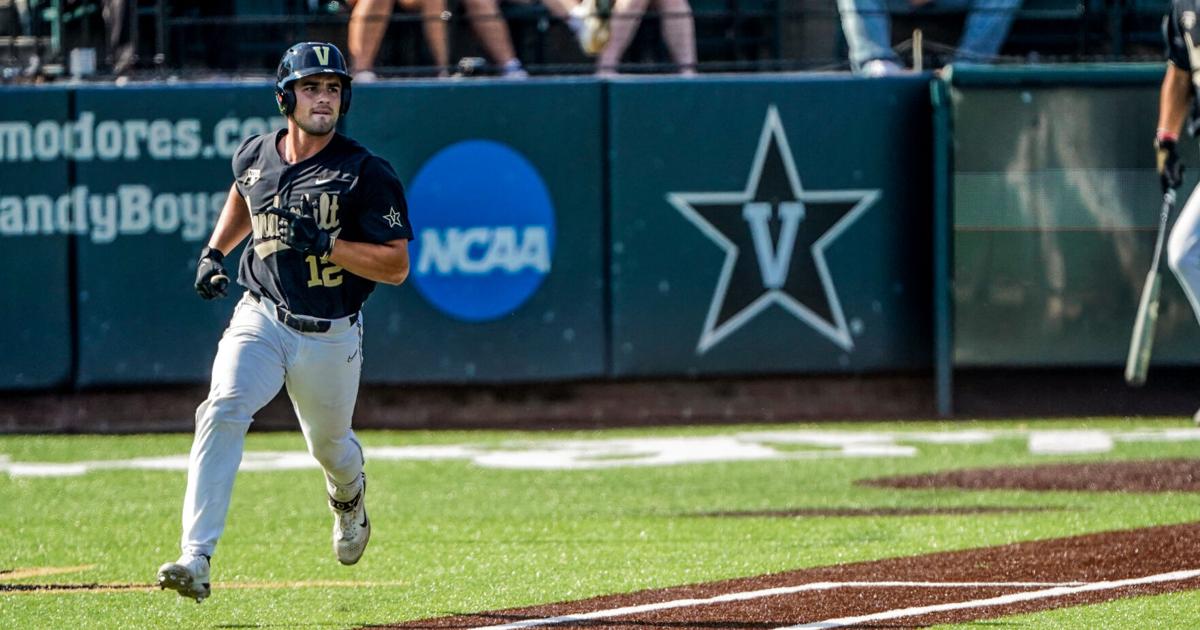 Dom Keegan's college baseball career so far can be summed up in one word. Patience.
The Methuen resident waited his turn as a rookie, despite being a rarely used reserve on Vanderbilt University's 2019 University World Series championship team. He's kept tabs on the award throughout 2020, first after a frightening health scare sidelined him in the first few months of the year, then after the coronavirus pandemic. COVID-19 cut its second season short before it really started.
Even last year, when he broke out as a junior, earning second-team All-American honors while leading Vanderbilt to one game of another College World Series title, Keegan did it by playing at first base and the designated hitter instead of his natural catcher position.
Now he's patient once again, forgoing an opportunity to sign a pro contract with the New York Yankees so he can finish what he started at Vanderbilt.
Keegan was recently named to the All-American Preseason First Team by Perfect Game, which also named Vanderbilt as the No. 1 preseason team in the country. The former Catholic big center should finally see extended action at receiver and will serve as a leader for a young Vanderbilt team that should once again challenge for the title.
"It was easier to put off pro baseball for a year than to say goodbye to Vanderbilt University," Keegan said. "I'm super excited to be back here and trying this stuff again."
Keegan is coming off a stellar junior season in which he hit .345 with 15 homers and 57 RBI, and he also posted a .427 on-base percentage and .638 slugging percentage. He initially started the year batting seventh but quickly earned a spot in third, where he remained for the rest of the year.
After the season, Keegan was drafted in the 19th round of the 2021 MLB Draft by the Yankees, but he had already decided before the draft that he would return to Vanderbilt for another year.
"I felt like another year of growth, another year under Coach Corbin and another year competing in the SEC was what I needed for my personal development," said Keegan. "That's kind of what it boiled down to."
For Vanderbilt head coach Tim Corbin, Keegan's breakthrough was gratifying to watch. A native of Wolfeboro, NH, Corbin has strong ties to New England and initially recruited Keegan largely because he and other trusted baseball people who knew Keegan thought the former Raider had what he was looking for. needed to thrive in a nationally competitive program like Vanderbilt.
"That's what characterizes him, he's very serious about what he does," said Corbin, who led Vanderbilt to two College World Series titles. "If he takes on a challenge he's all about, he's a kid who's all about everything he does."
While for the past few years Keegan has struggled for playing time or dealing with one health issue or another, Corbin said Keegan's patience is finally paying off and he will have now a chance to really own the team. He said Keegan enters the new season in great shape and currently does a lot of his work behind the plate, although he also practices at first base.
If Keegan continues to thrive while proving he can play catcher at a high level, he'll likely climb up the prospect rankings and could potentially become an early-round pick in next year's draft. He'll have no shortage of confidants when the time comes — several of his former Vanderbilt teammates as well as former Central pal Steve Hajjar currently play professional baseball — but in the meantime, he's happy to end his college career on his own terms.
"I'm happy with where I'm at, I'm proud of where I'm at, everyone has a different path and my path was to stay here and do the job here," Keegan said. "That's what I'm excited to do and these guys know that too and they've got my back one hundred percent."