Debate continues over who should end up with Armory | The Riverdale Press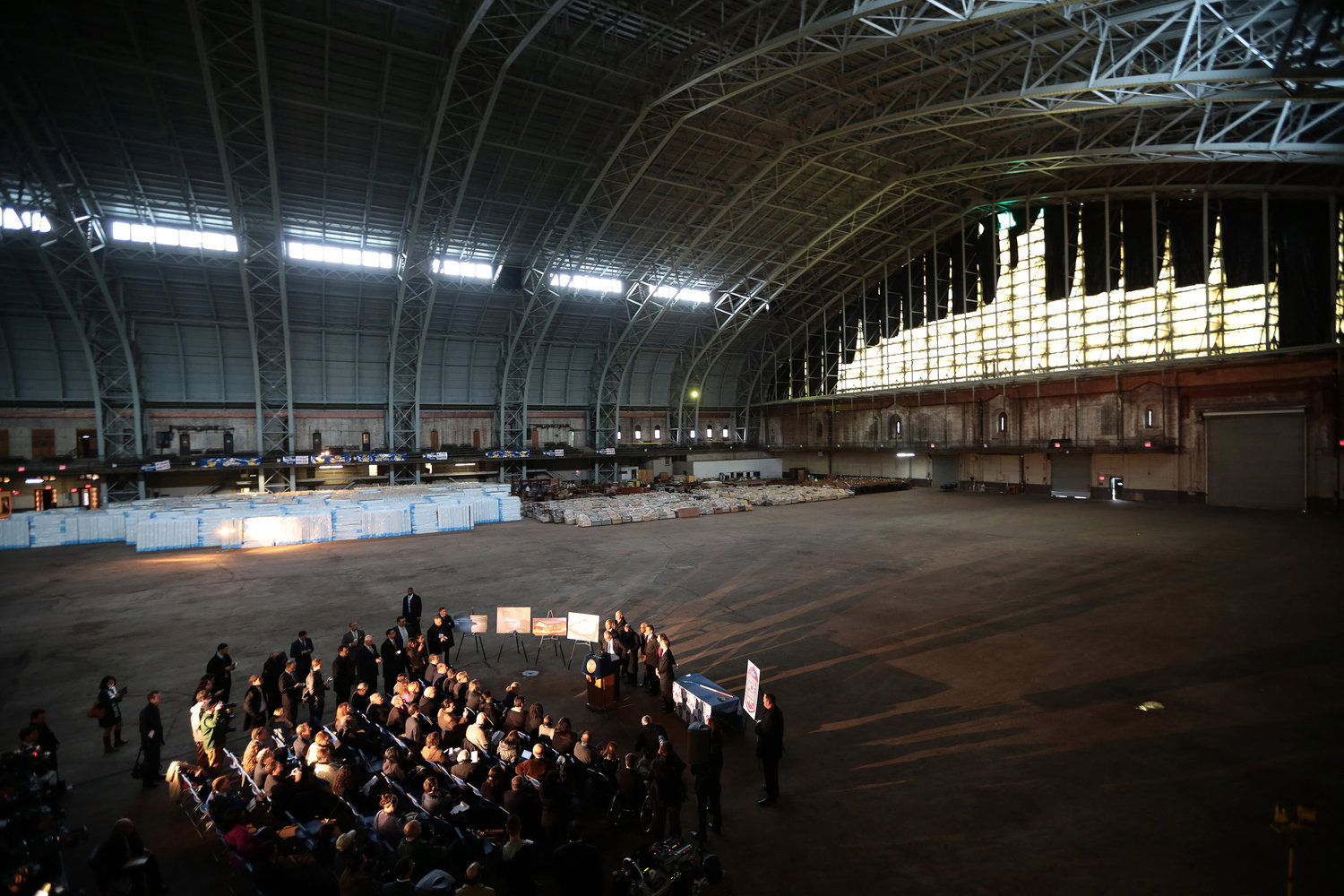 By Abigail Nehring
The Northwest Bronx Community and Clergy Coalition is relaunching its campaign to redevelop the Kingsbridge Armory as ideas begin to flow in for the redevelopment of the historic 575,000 square foot building on Jerome Avenue.
For the third time in 20 years, the New York City Economic Development Corp., owner of the arsenal, is starting the planning process from scratch to determine the future of the historic building. A judge's decision last fall was the final blow to the $350 million project that would have made it the world's largest ice hockey facility and a workspace for community nonprofits.
The Clergy Coalition was one of dozens of organizations in 2013 to sign a community benefits agreement guaranteeing paid jobs, community space and funding for local small businesses under the now-defunct plan to to transform the armory into a sports centre.
"When they said they would end the deal and reopen the process, it was pretty devastating to hear," said Sandra Lobo, executive director of the Clergy Coalition. "The city has let a decade go by without moving this process forward."
The armory occupies nearly five acres in a booming business corridor in the Northwest Bronx. It was built in 1917 and was an active military installation during World War II. The building was decommissioned in the 1990s and returned to the city, which has used it sparingly ever since.
It became the largest storm relief site in the Bronx after Hurricane Sandy in 2012 and was converted into a temporary food distribution center during the first wave of the COVID-19 pandemic in the spring of 2020.
Yet a permanent redevelopment plan remained elusive.
After a six-month public engagement period, the EDC — a nonprofit corporation controlled by the mayor, borough presidents and city council president — will again solicit proposals for redevelopment of the dockyard.
"We are in a critical moment right now," said clergy coalition organizer Juan Nuñez. "We've been organizing around this for decades and want to make sure EDC is transparent. We really want the community to be part of the whole process, from construction to completion. We don't want deals under the table.
Nuñez is eager to know if EDC will consider both leasing and buying the Kingsbridge Armory, as it did in its last request for proposals in 2012. With community land trusts now codified in law, he could be an opening for the Bronx CLT to acquire the site. The Clergy Coalition included the idea in its renewed statement of values ​​and principles for the Armory campaign this year.
"One of the things that's different this time from last time is that (the clergy coalition) now has collective land ownership as part of their values," Nuñez said. "We started work as soon as we learned what had happened in December. Right now we are involving as many people as possible.