College sports: Lakers hockey teams bring 'Teddy Bear Toss' back to the ice | Oswego County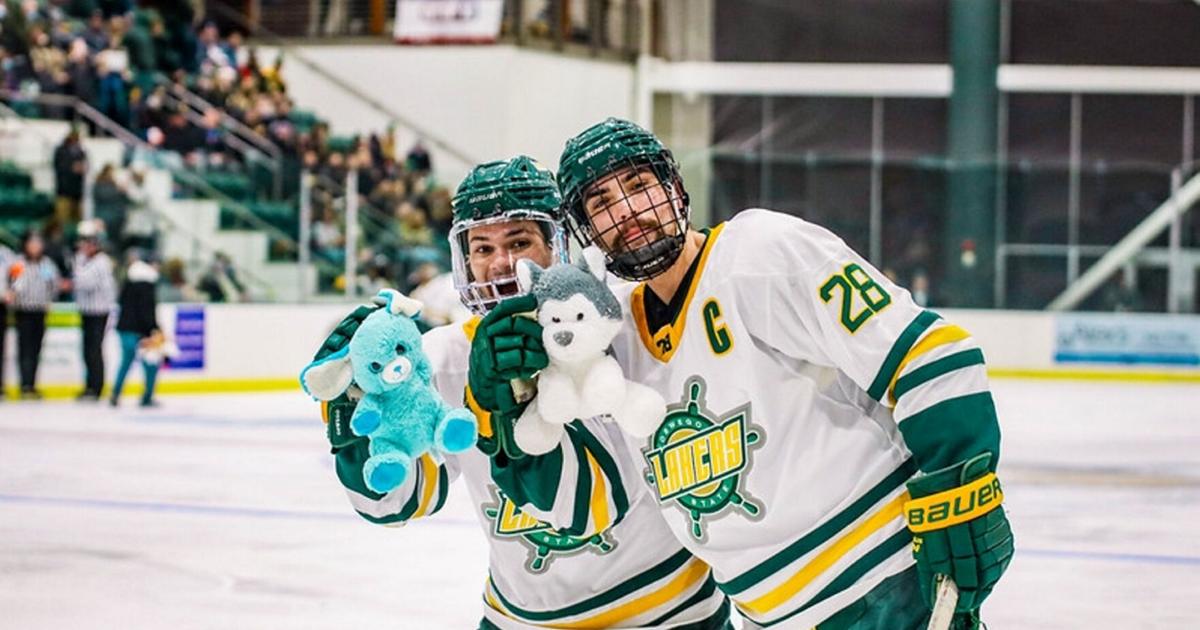 OSWEGO – More than 900 children in Oswego County will be opening a stuffed animal this Christmas thanks to the recent efforts of the Oswego State Men's and Women's ice hockey teams.
Both Lakers teams brought back the annual "Teddy Bear Toss" to coincide with their respective returns to the ice this year to benefit United Way of Greater Oswego County and Toys for Tots.
The combined contributions from each fundraiser led to the distribution of over 900 bears and other plush toys in the area, while food and cash donations were also accepted.
"It's always fun being a part of the Teddy Bear Toss," said Travis Broughman, Oswego's junior men's hockey captain. "It's going to a great cause, and we know the fans love to throw these bears after the first goal. To have the fans in person and really see the excitement that this game brings is amazing. "
Oswego's men's team claimed a 5-1 victory over Morrisville to mark the holiday-themed festivities on December 3 at Deborah F. Stanley Arena, while the women's team took a 5- shutout victory. 0 on Potsdam on November 20 in the same location.
For each game, spectators had to bring a stuffed animal and once the Lakers scored their first goal, fans threw their toy on the ice. Players then skate and collect the loot which is stacked in a large bin and then sent to their respective charity partners.
The moment is eagerly awaited for players and fans alike and has caused delays of over 20 minutes to clear the ice.
Morgan Shines scored the decisive goal for the women's team this year after the unit was ruled out in 2019 on their first appearance in the fundraiser. She was assisted by Senior Captain Philomena Teggart and Avery Webster.
"I think everyone took a little extra leap in their stride by wanting to be the one to score the goal this year," said Oswego State women's hockey coach Mark Digby. "To do that and see the community come and support us in that way, having the ability to provide that fun outlet again for everyone, just a huge sign that we're coming out of it together."
Both teams had their respective seasons canceled due to COVID-19 concerns last year, but hosted a virtual version of the fundraiser, performing a contactless drop-off site while accepting donations online during of a week.
This effort served its charitable purpose, but both teams spoke of the added pleasure of seeing the process unfold on the ice as planned.
"It's good to support United Way and whenever we can get the community involved in our games like that it makes things more fun for us," Teggart said.
The women's ice hockey team also hosted a hats, mittens and coats drive on November 6.
The Teddy Bear Toss was a tradition started by male ice hockey coach Ed Gosek and Digby, who was his assistant at the time, in 2016, based on similar events they have witnessed on other ice rinks.
The Oswego High School indoor track team volunteered to help with a donation kiosk at the rink for each game to continue their annual involvement under the direction of coach Dom Pike.
"It's a big event and it was good to see it again and go again," Gosek said. "I hope the pandemic stays under control and next year it will be even bigger and better."