BASKETBALL: Daniels signs with Northern Oklahoma College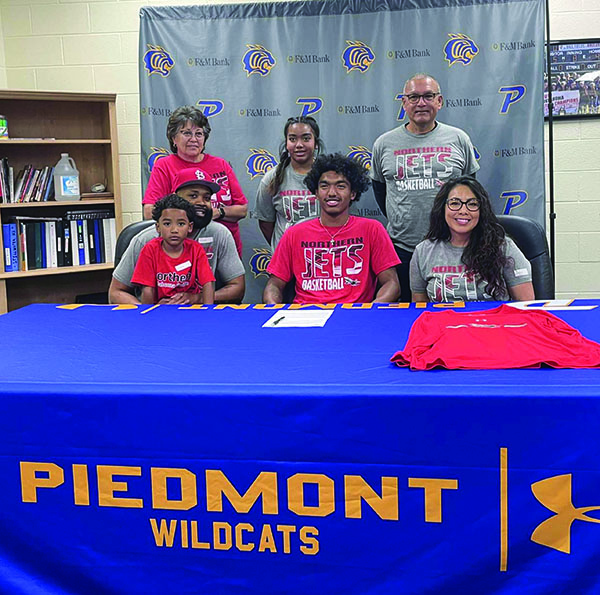 By SCOTT MCKIE BP
One-feather staff
Jayce Daniels, a member of the Eastern Band of Cherokee Indians and a senior at Piedmont High School in Piedmont, Okla., has signed a letter of intent to play basketball at Northern Oklahoma College.
"I'm excited and looking forward to playing at the college level," he said. "My goal over the next two years is to increase my chances of achieving my ultimate goal – which is to play at Division I level."
Daniels was named 5A (Oklahoma) All-Conference in his junior and senior years, and he was the 2021-22 college basketball offensive player of the year at Piedmont High School. In the 2020-21 season he was named All-Star 5A by class, and in the 2021-22 season he was nominated for McDonad's All-American game. An outstanding athlete, he was also a state runner-up and 5A Suburban Conference Champion in the 300m hurdles.
"I want to thank my family for supporting me and putting me in positions to be successful," Daniels said. "Thank you to my coaches for helping improve my game. I thank my friends for all of their love and support. I especially want to thank my extended family and friends at Cherokee for always supporting me and for their role in my early years in basketball. Special thanks to Truman Taylor for his time in the gym with me.
He is also focused on his future beyond basketball. "I'm majoring in broadcast journalism and hope to become a sports broadcaster after my basketball career."
His mother, Jessica Hogner, commented: "We are so excited for Jayce. Basketball isn't over for him, but now the work really begins. It's something he's wanted to do all his life. It's the perfect scenario. He continues his education while playing the game he loves.
She is also happy with her schools decision. "We believe this college path he has chosen is a great transition allowing him to adapt to the academic rigor of college and also gives him the opportunity to be on the job, improve his skills and prepare him for the next step – as Jayce puts it, "he improves his stock".
Northern Oklahoma plays in the NJCAA (National Junior College Athletic Association).