6 Best Destinations for Bears Star WR Allen Robinson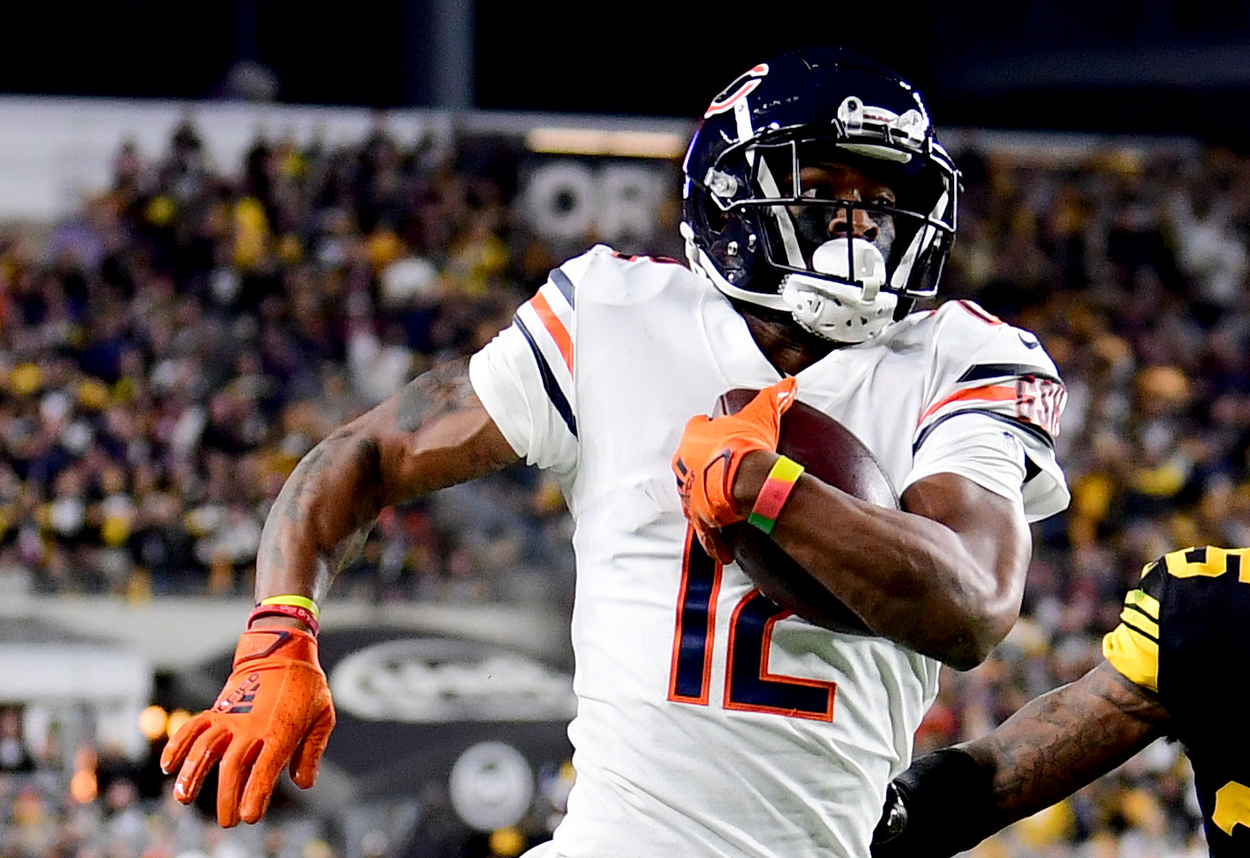 Allen Robinson spent his first season with the Chicago Bears as a reliable veteran receiver who won the NFC North in 2018. Almost four years later, he will potentially leave Windy City after his worst season as a professional athlete.
Robinson, who turns 29 in August, had just 38 catches for 410 yards and a touchdown in 12 games for the dismal Bears last year. Nonetheless, he should be a popular name in the free agent market and now seems like the best time to rank the teams that could pursue his services.
For this list, we've ranked the best potential teams based on everything from current roster and cap space to anything that might appeal to the player in question. In Robinson's case, possible attractive factors include money, the team's playoff chances and a proven starting quarterback.
Based on the aforementioned prerequisites, the best teams for Robinson rank as follows.
6. Chicago Bears
As of press time, Robinson has not officially stated that he has no plans to return to the Bears. The 2015 Pro Bowl selection recent tweet referring to his shrinking receptions and targets understandably raised questions about his long-term future in Chicago. That said, it appears Robinson's issues relate to former head coach Matt Nagy and general manager Ryan Pace, who were each let go in January.
However, money talks and the new Bears regime may find a way to convince Robinson to bring him back and give young quarterback Justin Fields another shot. Even if the veteran receiver returns to Chicago, the Bears will likely be always will have to beat Aaron Rodgers and the Green Bay Packers next year.
5. Miami Dolphins
New Dolphins head coach Mike McDaniel looks like a man who intends to stick with beleaguered young quarterback Tua Tagovailoa and build around him. According to Spotrac, the Dolphins should lead all teams with more than $62 million in cap space this offseason, and they desperately need a reliable outside receiver.
Although Robinson ticks all the boxes for the Dolphins, one has to wonder if the long-suffering organization meets all the needs the veteran receiver might have entering free agency. There are still too many questions about Tagovailoa's future in Miami and his potential to succeed in the NFL. Robinson has answered enough quarterback questions in his four years in Chicago, and the experience may not be worth repeating.
However, don't be surprised if Robinson ends up in Miami if the Dolphins provide the money and commit to improving Tagovailoa's offensive line.
4. Indianapolis Colts
The good news is that the Colts have projected cap space of $37.1 million and an offensive-minded head coach in Frank Reich. However, the two-time Super Bowl champions are reportedly interested in parting ways with veteran quarterback Carson Wentz, who played well last season before falling apart in the past two weeks.
The quarterback's uncertainty could work in Robinson's favor, at least from a financial standpoint. If the Penn State product plays his cards right, he could sign with the Colts and become the No. 1 target for a young, inexperienced quarterback or a veteran — Jameis Winston, perhaps? — desperately trying to become the Colts' long-term starter.
3. New York Jets
Although the Dolphins and Colts are better positioned to reach the playoffs next season, the Jets have two things in their favor. First, the organization seems genuinely committed to Zach Wilson, the second pick in the 2021 NFL Draft. There are no lingering questions about potential trades with Deshaun Watson or Russell Wilson in East Rutherford, New Jersey, for the moment.
It also helps that the Jets have projected cap space of $44 million and don't seem afraid to spend. Although Robinson would end up playing most of his season in one of the worst stadiums in the league, he would at least benefit from a team desperate to find their way back to winning ways.
2. Philadelphia Eagles
Although he went to Penn State, Robinson is originally from Detroit. In other words, this isn't so much about a Pennsylvania reunion as it is about the Eagles checking every box the former Pro Bowler should have this spring.
However, before taking his talents to the City of Brotherly Love, Robinson must learn what the Eagles intend to do as a quarterback. Will Philadelphia stick with Jalen Hurts, a 2021 Pro Bowl selection, or do the Eagles plan to go all out and ditch the farm for Watson or Wilson? To be clear, this isn't a blow to Hurts, who has shone at times throughout the 2021 campaign and could still have a bright future in Philadelphia.
Regardless of who plays quarterback next year, the Eagles just make sense for the 28-year-old wide receiver. Still, there's another NFC East team that we think is more appealing.
1. Washington Commanders
Despite the general dysfunction of the organization, the offensive core of the Commanders is far more talented than some fans realize. Washington already has young running back Antonio Gibson, explosive receiver Terry McLaurin and quarterback-turned-tight end Logan Thomas in place. Even if quarterback Taylor Heinicke isn't the answer, the 2020 NFC East champions don't exactly have a bare closet on offense.
Commanders head coach Ron Rivera has a history of aggressively pursuing players he believes can make a difference on offense. That mentality dates back to the Carolina Panthers' decision to sign former Bears tight end Greg Olsen in 2011, and the Miami product has become one of the most important players in franchise history. Perhaps another ex-Bear will be key to making Rivera and Washington a permanent playoff contender in the 2020s.
As crazy as the idea of ​​a stable organization in Washington sounds, just remember that we just saw Tom Brady serve as the starting quarterback for the Tampa Bay Buccaneers for two seasons. Exactly.
As Sports broadcasting on Facebook. Follow us on twitter @sportscasting19.
RELATED: Disgruntled Allen Robinson II Sounds Final Season Under Former Bears Head Coach Matt Nagy: 'A Bit Disturbing'